Wood Score Unit: The Perfect Gift for the Shuffleboard Player You Love
With Christmas less than a week away, now is the time to get last minute gifts for the shuffleboard player in your life. You may not be willing to invest in a whole new shuffleboard table for your loved one, but you can still give a gift that will make their shuffleboard the coolest one on the block.
One enhancement that can elevate a simple game of shuffleboard to the professional level is a scoreboard. When you challenge your friends and family to a fun game over the holidays, you can make the tournament seem more official by having a scorekeeper.
The Small Wood Score Unit that is sold by McClure Tables will fit in with the design of any shuffleboard table. It comes in an array of colors and materials that can not only enhance the quality of play but also the overall aesthetic of the game room.
For a more formal table like our Veneto shuffleboard table, you can match either the black or mahogany wood that the table is made out of so that the scoreboard doesn't seem tacked on but instead a thought-out component of the original design of the table.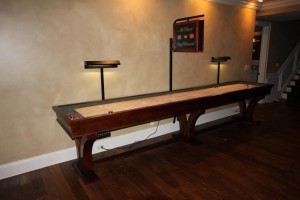 This traditional design will even look good in game rooms of a more playful nature with less formal furnishings since it is adaptable and simple enough to fit any setting. With a J-bar supporting the circular scoreboard, this piece is unobtrusive no matter what aesthetic direction you decide to take the room in.
You can control the scoreboard through a remote control that hooks up to the cradle of the shuffleboard table, complete with a wire harness attachment.
Be sure to give the gift early, if you can, so that you and your friends and family can start the holiday off right with a fun game of shuffleboard to break in the new score unit.