Select the Right Size Shuffleboard Table for Your Home or Business
If you are in the market for a home or business shuffleboard table, the size of the table you select for your home or business depends on more than just available space. However, for many looking to add a shuffleboard table to their home, size will continue to be a very important factor. Fortunately, with tables ranging in length from nine to twenty two feet you have many options to choose from. In addition, shorter tables are generally narrower as well with widths of the playing surface ranging from eighteen to twenty inches. This means for any purpose, home or commercial, there is a shuffleboard table to meet your needs.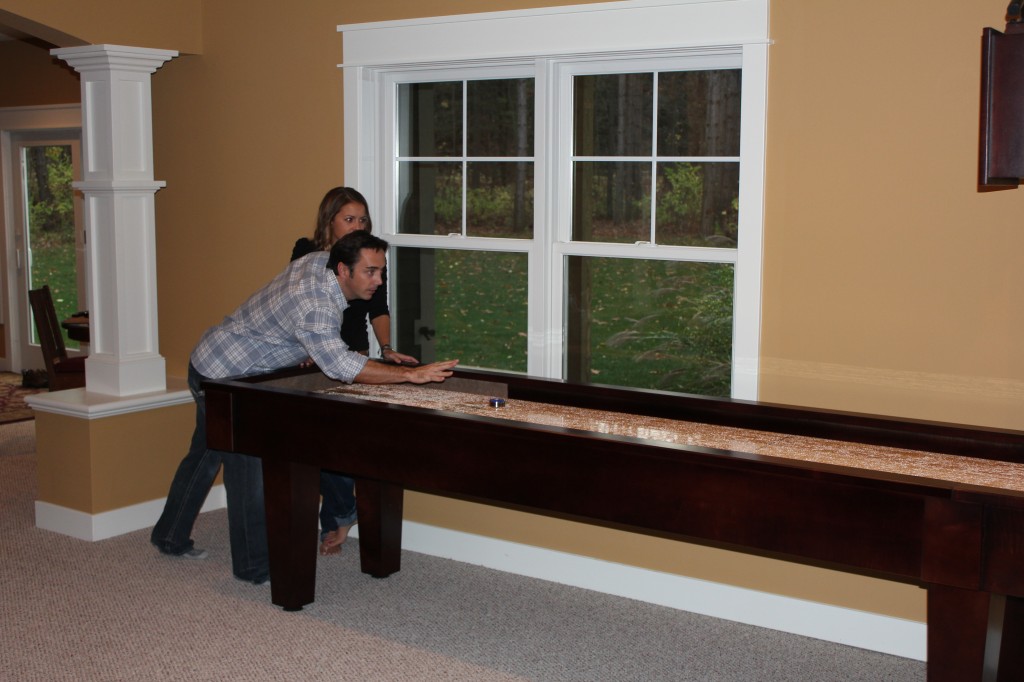 Unlike pool or billiards, a shuffleboard table does not require a significant amount of space beyond the table's dimensions for game play. With a pool table you typically need at least four feet of space around the entire perimeter in order to accommodate players and their cue sticks. However, with shuffleboard the only player space you need is at each end of the table, and only enough to allow standing space. There is no optimum amount of space to leave open but for most applications a minimum of three feet should be allowed on each end.
In addition, because one side of the length of the table can be butted against a wall, the total floor space foot print of the table is reduced significantly. The only other space required is along the remaining length of the table, and is only required for players to change sides after alternate games. In a home or crowded bar environment, this space is again not significant. Finally, height is also not a factor other than to be able to accommodate the players.
Once you have determined how large a table you can accommodate, you next need to consider where you are going to place it to ensure the floor is stable and level. Correct leveling includes both the length and the width of the table, and although a flat level floor is ideal, this can be altered for many tables by raising and lowering the adjustable legs.
If your game room is in the basement of your home you might also want to consider the humidity level and dehumidify the space to keep your table in top condition. Not only will this benefit your table and playing experience but also make the space more comfortable for the players and typically add to the amount of time you will enjoy using your table.
If you plan on using a shuffleboard table in your business, such as a sports bar or pub, you will want to apply some of the same space requirements, only with a few additional considerations. In a public space you will want to make sure your table and the play does not disrupt customer traffic for example by placing it along the back wall.
Because of their narrow profile, a shuffleboard table can be used in spaces that are not open to other forms of gaming entertainment and you can set them in spaces that would otherwise go unused. If you have the space you can even run two tables side by side doubling the play space without using significant amounts of additional floor space.
With many sizes available to fit your need, shuffleboard tables require little space but can provide endless hours of entertainment.