Compare Where Shuffleboard Tables are Made
How Shuffleboard Tables Are Made Matters
Often we think, "So what if a product is imported? I saved on the cost of labor and got a better deal." Or, "I cannot afford something that is made by hand,factory produced is good enough." This mindset is what leads to consumers getting a lower quality product, and not only with shuffleboard tables. The distribution chain is where most of the costs are associated in the making of a mass produced table. The price for these imported products is kept down by using cheap overseas labor and low grade material.
The foreign factory business model, with its multi-level distribution system, always leads to outsourcing for a lower labor cost. That is just the first in a chain of decisions that affects how a shuffleboard table is made. In a typical factory production business model, the labor cost is not the only concern. Your goal is to make a product at the lowest possible cost and then efficiently distribute that product. This leads to large batch production runs and a wholesale distributor buying a warehouse full of product who then sells that product to resale dealers.  Let's look at the distribution chain for just a moment here and compare two similar shuffleboard table legs for reference. Before we get into the technical differences, such as the quality of the raw materials and workmanship, let's examine distribution models and why they make McClure Tables a different kind of company.
Most shuffleboard tables sold on line are Chinese imports. We've found  the odds of  walking into a local billiard supply store and finding a U.S. made shuffleboard table are at best 1 in 4.  You will have to be diligent when shopping online as well. You will find yourself inundated with misleading claims about where products are made.  In the typical import business model the factories in China use a very low skilled, transient labor force. These factories have a work force turnover rate of about 40% annually. These aren't career jobs. There is no future as an industrial worker in a factory in any developing country. The only share of the profit going to anyone who does the work is the factory owners.
The wholesale distributor in the USA does not have the responsibility of keeping workers employed. He simply distributes the product that is contract manufactured. This is where the consumer can get confused. They see so many brands of shuffleboards on the internet and many are actually contract manufactured at the same factory. The wholesale distributor has a factory buying agent making 5-7% commission in most cases. The shipping cost to bring the product to the USA is about 10-12%.  Then the wholesale dealer is going to add another 40% mark-up and then distribute to re-sellers who again will try to mark-up another 30-40%.
What does that mean to the consumer?
When you google most brands of shuffleboards you will see every site from the major internet retail sites down to the local shuffleboard dot com super store who sells every brand of shuffleboard known to man. Well almost every brand but one. You won't see McClure shuffleboard tables for sale anywhere but at McClure sites. We won't sell to a distribution chain that adds layers of middle-man mark-up. We won't be shipping your table from halfway around the world. See Video below for more about why we don't sell our high quality line of McClure shuffleboard tables to any other internet retail stores or sites. Shuffleboard Tables you can buy here.
Shuffleboard Tables Made In USA Affordable luxury from McClure Tables on Vimeo.
Now let's compare two shuffleboard table legs; one made in China and one McClure makes here in Grand Rapids, Michigan.  Both legs look very similar in style. They are what the Game room or Pool table industry would call a pedestal leg design. Nothing terrible about the Chinese leg design but you could ask our customer who brought these legs in for repair how they held up when he tried to slide his table over into another position in the room. (Not exactly what we would recommend even with our legs but if you do, use a sliding device made for moving under the legs.)
Import Quality Shuffleboard Table Leg
Looking at the legs that came in for repair, let's start with the outside skin or what we would call the plywood stretcher that connects the two halves of the outside post. This is a standard design concept and we use it ourselves on our Tournament and Competitor models as do most overseas builders. When a leg is fully assembled  the outside appearance may look similar. Looks however, can be deceiving.
The outside skin of the Chinese leg unit is 1/4 inch plywood.  This cost the manufacturer in China about $8 for the sheet. A sheet of plywood  would yield 8 leg panels. You would need two sides so $2 worth of plywood goes into this leg. Because the panel is only 1/4 inch thick it requires the two vertical plywood support stretchers.  The stretchers are made of  3/4″ thick plywood of poor quality. Definitely not a finish grade plywood and most likely not certified formaldehyde free.
This leg design needs the support of those two vertical stretchers because the 1/4 inch plywood is not very strong. Without the extra support of the stretchers this leg unit would fail pretty quickly. The  engineers knew a 1/4 inch sheet of plywood would not be strong enough to with stand pressure and stress.  Finally, this leg is stapled and glued together.
McClure  Handcrafted Shuffleboard Table Leg
We don't use staples on our tables.  Rather, we dado our two, 1 ¼" hard maple leg posts. Then, we screw and glue the ¾" inch plywood leg panel into the hard maple outside leg supports.  When this leg style is made with the proper materials by proper craftsmen, you don't need to add support stretchers.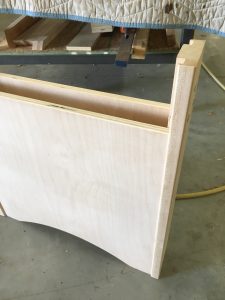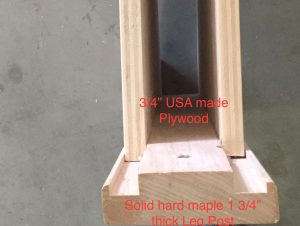 The plywood sheets used to make this leg cost us $50 and we also get 8 panels out of one sheet. So this part of the leg unit will use $12.50 worth of materials. That is over six times the material cost for the skin compared with the factory made version. The solid wood leg post on the outside are made with 6/4 stock select Michigan Maple.  Because we set up shop in the heart of the worlds' densest population of rock maple trees, we are able to make the outside leg posts for $12.68 apiece. That's a total of $25 in raw material cost per leg unit. That's probably five times the cost of the unit we're repairing.
A quick side note here on wood because we can be obsessive on this topic. We use local wood harvests. By local, we mean from two counties away. It's processed at a lumber mill one county over.  This keeps our carbon footprint as minimal as possible. Stewardship of the land is important to us, as are renewable resources.  Of course, so is cost. Being here in this specific part of Michigan reduces our cost on this leg unit, for example, by close to 40%.
You Get What You Pay For
We stated above the plywood cost for the imported leg but there are American factories producing this quality of leg as well.  These factories have a very similar distribution model. They sell to various re-sellers.  The shipping isn't international but their factories are set up in southern states because they can get away with paying 25% less for factory help. Factories are different from small shops, like ours. Factory help is much different from the craftsmen we use.
The factory worker loads parts onto a conveyor belt, keeping one watchful eye on the time-clock, waiting for his break.  They won't dado the leg post. It's ok for these factories to be hundreds of miles from the best source of lumber, because they aren't using it.  These factories will use cheaper materials. Inferior particle board and probably poplar or one of the varieties of soft maple.  And the layers of sales reps, resellers and other middle men still take their cuts and add to the price of these cut rate tables.
McClure's craftsmen cut, carve, fit and finish each piece by hand, with a sense of pride.  We put our name on our tables. We make our tables with the finest hardwoods. Hard rock maple for our playing boards and cabinets made from maple, cherry, walnut and other top shelf woods. We use a 1 1/2 inch thick rock maple leg post.  And then we crate the tables ourselves (often with better wood than you will find on imported and factory tables) and ship them to you directly from the shop.
They say a picture's worth a thousand words. Take a  look at the gallery,  below.  I think it should be easy to spot the difference between the handcrafted McClure Shuffleboard Table leg and the factory produced style.
The Leg had a support block made with layers of plywood for the threaded insert because outside leg post is too thin for a threaded insert

Leg Mount Blocks are screwed and glued on to top plate

Leg Support Block Factory Produced Shuffleboard Table

USA made Shuffleboard Table Leg

Quality made in USA shuffleboard Tables

Shuffleboard Table Leg mount on factory production style leg

Side by Side which Leg would you want on your shuffleboard table? Buy Made in the USA

Stay Tuned for more updates to this post as we will try to continue to educate the consumer on what to look for in a quality shuffleboard table.
Save
Save