Made In China Shuffleboard Tables
Shuffleboard Tables Made in China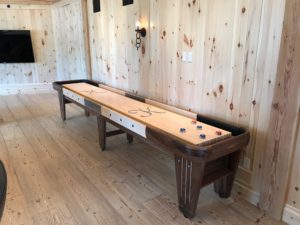 Consumers know the phrase "Made in China" so well they react with surprise whenever they learn that something they bought was made right here. Now that "Made in the U.S.A." is making a come back, it's no longer a quaint echo of the past. American industry is picking up momentum as the country looks for ways to enliven the economy, minimize impacts to the environment and to create jobs for those who call this home. Extreme outsourcing has taught us that keeping things local as much as possible carries deep economic and social benefits which bring healthy returns on investments while promoting sustainability. And when companies produce goods locally from resources readily available, they support suppliers and producers in the conduit; locally owned businesses therefor become intimately connected to the local economic and social fabric. Amazing things come out of business alliances that foster local talent, ingenuity, human and material resources while engaging the community.
For every product produced overseas and imported back into the country, outsourcing divert opportunities to foreign interests, ignore local resources, and don't invest in our communities. Regional economies can't exist in an outsourcing vacuum, but thrive when business is creating useful things that make intelligent use of local resources, including intelligent use of waste products. Companies organized around the idea of keeping things local tend to be long time players in the community and demonstrate their commitment to that community on multiple levels. Companies based heavily on outsourcing can operate from a satellite office anywhere in the country, so loyalty to locality isn't part of their business model.
McClure Table Locally harvested hard maple.
Dollars spent locally invigorate the community, and companies who use locally available resources are directly supporting their business network. When you buy bread from your local bakery, you support everything the bakery uses to bake bread on down to supporting the employees, suppliers, and indirectly businesses that conduct business with the bakery. Same thing goes with McClure Tables, a company that incorporates native grown trees into its chief product – shuffle boards. By being located in the heartlands of Michigan where hard acre maple grows and is harvested, all material needs are met locally, nothing is imported. Milled and machined in our shop, all aspects of the business work in harmony. Even saw dust generated from the milling process is integrated into the business plan as it is recycled for livestock bedding material. After the sawdust is separated from chips the chips are used for bedding in livestock pins like the chips you may see in a Pets store for hamsters or rabbits.  With North American maple growing only on the North American continent, we are blessed to have a hardwood that is uniquely suited to our needs, and we are able to recreate a vintage shuffleboard table that is in every way identical to ones built over 50 years ago. We can do all of this while supporting our community and play an active role in maintaining a sustainable business model.
Creating Shuffleboard tables that are a good value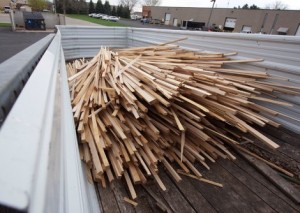 We don't just stop with recycle the sawdust, the hardwood rips or strips too small to use are recycled and used in boilers and heating systems to burn for heat during the winter months. At McClure, we create value by being strategically based where we have ready access to all the raw materials we need. Furthermore, since we produce all of our products on site, we have complete control over our overhead and production costs. And because we do it all right here, our customers don't pay for anything to be outsourced. By taking advantage of local resources and doing everything in-house including extreme quality control, we have the ability to respond to customer concerns and to make order changes quickly. While high-volume manufacturers tend to sacrifice quality due to communication barriers, small shops, like ours, often have decades of experience in producing consistent, high-quality work. 
Where Shuffleboard Tables are made
Shuffleboard Table Buying Guide For Dummies