Give Your Vacation Home an African-Inspired Design Scheme
Many homeowners are getting ready for their summer vacations by planning large scale trips in exotic locales with the entire family. Whether that means flying down to a resort on the shores of Mexico or booking a cruise to an exotic island in the Caribbean.
However, some families prefer to spend time in their summer home in favor of trekking across the globe on an adventure. While seeing more of the world is a great way to spend free time, sometimes returning to the memories of a secondary property is the the best way to relax and take some time out of your hectic day-to-day schedules.
However, just because you may not be leaving the time zone to get to your vacation destination – or even exiting the state, for that matter – you can still give your vacation house an exotic air that is equal parts classy and playful. According to Fresh Home, an architecture and design publication, African themes are extremely trendy in 2013. No place is this more appropriate than in a holiday villa, which, according to the magazine, has traditionally been the kind of structure that best utilizes this sort of style over the past century.
To infuse your space with African cues, insert more animal prints – whether they are in the form of a zebra-patterned arm chair or a leopard print ottoman – into the space, as well as hand-carved furniture made from hardwoods or wrought iron.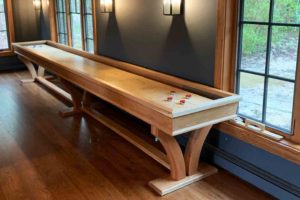 A beautiful Veneto shuffleboard table made out of the finest Michigan Maple may not be an authentic African creation, but stained in either mocha, maple or deer creek, it will help your vacation home acquire the look you desire.