Knock-Off: A Friendly Game for Families
As competitive as shuffleboard can be, a game doesn't have to result in a fierce battle that pits friends and family against each other, as some of its more intense tournaments have the tendency to do. In fact, the most popular activities played on the shuffleboard are hardly technical, and are generally used to facilitate conversation and lighthearted interaction between participants.
Perhaps the most common game of shuffleboard is one that actually has opponents facing each other throughout the duration of the game. Knock-off is simple enough to explain to a team member of any age, and doesn't require players to be mathematicians or expert athletes like some more complicated games. This makes Knock-off the perfect game for families, pitting any combination of siblings and parents against each other in a tournament that is the perfect for bonding.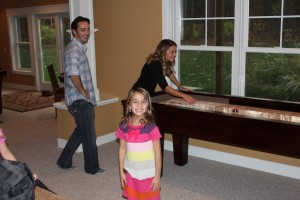 At both ends of the table, teams of either one or two will stand with their four pucks. It's easiest to decide the color pucks that each team receives, as well as who goes firstby flipping a coin and calling heads or tails.
Whoever wins the coin toss should note the advantage of going second: This gives you the opportunity to be the "hammer," or the puck that goes last, which has the best chances to make the game an upset over the competing team.
Players will send pucks down the board with the goal of getting to the farthest end of the table to collect the most points. To be considered in play, the weights have to at least pass the short foul-line, or the line closest to the shooter. Pucks that land between this line and the long foul line are eligible for one point, with another point added for every subsequent zone a puck passes through until reaching the end of the table. If a puck is hanging off the farthest zone, it is eligible for five points.
The team that gets a puck farthest down the board will be the one to receive points that round. Each round is repeated until one team scores at least 15 points, making them the winner.