Man Cave Essentials: Vintage Finds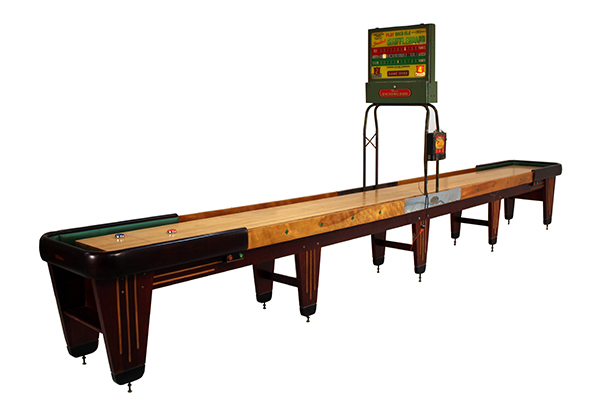 When some men start to carve out their own special place in their home, they look for man cave essentials from a certain era of their lives. Whether it's a championship team of their youth, the smell of popcorn or the thundering sound of a puck sliding across a shuffleboard table, men truly love their nostalgia. Here are some vintage finds that would fit nicely into a retro man cave for the 21st century.
Hi-Fi Stereo w/ Record Player
Vinyl is back! Whether you've saved all your old albums or are ready to go out there and find them again, a hi-fi stereo is the perfect man cave essential for creating the soundtrack to a shuffleboard game. Need a suggestion for good shuffleboard music? Any modern jazz like Charlie Parker and Miles Davis or classic rock from The Doors and Jimi Hendrix will do.
Rock-Ola Shuffleboard
Here at McClure Tables, we make replicas of vintage Rock-Ola shuffleboard tables, down to the exact specifications of the original Chicago-based company. Necessary for anyone from shuffleboard lovers to nostalgia freaks, these 22-foot size tables will serve as both the centerpiece of any room and a fun game to play.
Antique Rock-Ola Shuffleboard
What's that? An exact reproduction isn't enough for you? We'll hold on to your seats because we also restore and refurbish antique Rock-Ola shuffleboard tables. Bringing a piece of the late 1940s straight into your home, this man cave essential shows off some amazing wood craftsmanship and detail. Heck, even the scoreboard is original and revitalized with new life once we're done with it.
Popcorn Machine
When you make a break to your man cave, it usually means there is an important game to be watched or played. For that, there needs to be some sustenance available at any moment, just in case there is overtime. With a classic popcorn maker, all it takes is 10 cents and a few minutes to have a hot, fresh snack on hand. Just remember to take out all of the old, vintage kernels.
Beer Mirror
Beer signage has long held a grasp on men's hearts, but for a more refined man cave, may we suggest a classy mirrored sign. Perfect for showing your local brewery pride or your family's country of origin, beer mirrors are a nice decorative touch without going too over the top.
Bringing back some relics of the past into your man cave is essential for making you feel at home. Not only will it transport you to a simpler, more carefree era in your life, but these vintage finds will remind you to take the time to relax in your new domain. Got time for a game of shuffleboard? Now, you finally do.