Papago Brewing Co: Home to Shuffleboard and Arizona's Best Beer Collection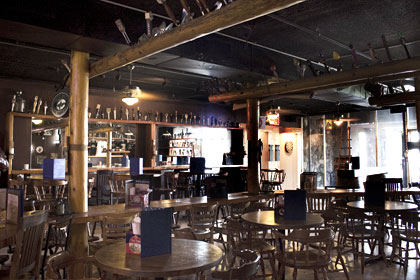 Draft Magazine recently unveiled their list of the 100 Best Beer Bars in the country, supporting the notion that where there is good beer, there is shuffleboard. The list breaks down the top beer havens in all the different areas of the country, showing that no matter where you are, you can find a good game of shuffleboard and some refreshing brews.
The lone bar on the list from Arizona was Scottsdale's own Papago Brewing Co., which is located inconspicuously in a strip mall on East McDowell Road. The bar has been around since 2001, and started out as a tiny hole-in-the-wall with a shuffleboard table, some Trivial Pursuit cards on the counter, and an impressive tap list of local and international brews.
The bar was recently renovated and now takes up a bigger space in the same strip, although it now offers beer connoisseurs one of the largest selections in the Valley of the Sun. Not only can guests sample the restaurant's own award winning house brew, but roughly 30 other beers are on tap are all available for trying.
Behind the bar is a long wall of bottled and canned offerings that customers can choose from, ranging from the Spring Bock made by local brewery Lumberyard out of Flagstaff, to the Habanero Porter made by Mikkellar of Denmark.
The extensive beer list is updated daily as the owners do their best to make every customer come back for more, and an always rotating brew menu guarantees they'll have a new brew to sample next time they visit.
Although the kitchen closes at 11 nightly, patrons can enjoy drinks until 2 AM on weekends while happy hour lasts every week night between 2 and 6 PM.