Portland's "Sunshine Tavern" Combines Shuffleboard and Fine Dining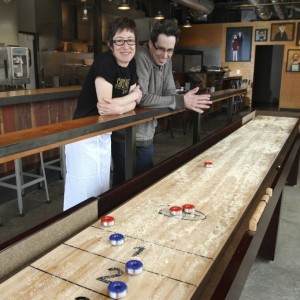 Although table shuffleboard originated as a popular game to be played in bars and taverns, where betting takes place and the competition regularly gets rowdy, the activity has found its way onto the trendy restaurant scene of late.
One great example is the Sunshine Tavern in Portland, Oregon, where shuffleboard is a popular activity seemingly any time of day for patrons of nearly every age bracket.
The restaurant is lauded for being one of the premier dining destinations in a city that is known for being a culinary hot spot. But what has been driving people to the joint, which is definitely more of a foodie haven than a traditional tavern, is the opportunity to take up friends or strangers in a friendly shuffleboard tournament over a light brunch.
Sunshine Tavern features a shuffleboard right in the center of the main dining room that dominates the aesthetic of the place. Like much of the furniture and decor throughout the space, the board is made of dark wood and is aged to give the space a rustic flair.
Having been featured in newspapers across the country, from the Wall Street Journal to the local Oregonian, Sunshine Tavern's shuffleboard table is perhaps eclipsed only by its menu, which features a whole host of experimental original recipes for the adventurous palette.
In an interview with Zagat, a travel rating service, Jenn Louis, Sunshine's owner, explained that the restaurant was born as a combination of her family's favorite things.
"It started as a series of conversations that my husband David and I had about what we wanted on our days off… We thought putting a shuffleboard table in the middle of the dining room would be awesome. It's fun, it's free, and everyone plays. So we created this great place," Louis told the source.
The restaurant has recently taken to hosting a casual tournament every weekend that requires a $5 buy-in for teams of two who are looking to participate in friendly competition. For shuffleboard fans visiting Oregon who are also looking for a great meal, Sunshine Tavern should be your first stop.