Rock-Ola Shuffleboard Table New Score Unit
We promised we would post some pictures tonight of our new Rock-Ola shuffleboard table score unit. Just like the original Rock-Ola shuffleboard tables, we left out no detail to make this reproduction as authentic as we could to the original tables.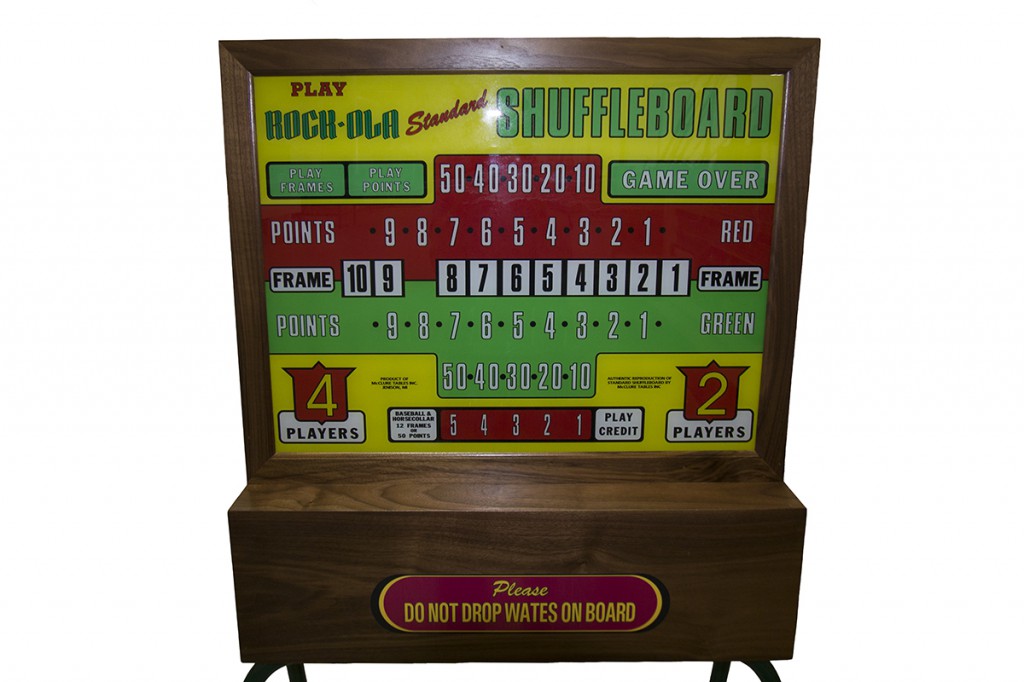 The glass is real glass, not plexiglass, and it is made in the USA. We make the frame out of solid maple or walnut in our Grand Rapids factory. We left no detail out with the metal pole, it was fabricated in Grand Rapids by a local metal shop. We gave them an original antique Rock-Ola shuffleboard table score unit pole to replicate. We had the powder coat done in Grand Rapids with the original green color that goes perfectly with the green glass diamond inlays and the green in the metal logo.
Our Rock-Ola tables are so close to the original tables, that even with the two tables side by side you could not tell the difference. In fact, this year at the BCA (Billiards Congress of America) trade show in Chicago we will be taking a 60 year old original table and a new reproduction table and setting them up side by side. The only difference is that our new tables use better wood for the legs and horse collar. The original tables used poplar wood, while we now use Michigan hard maple or walnut wood. We took some pictures today that we will share on this post of our new score unit. We have more features still in development that also replicate an old original coin operated model we have in our shop. If you are in the Grand Rapids area feel free to visit our factory we are always making Rock-Ola shuffleboard tables or restoring an antique Rock-Ola shuffleboard. Visit our web site if you are interested in a new Rock-Ola shuffleboard table