Shuffleboard Tables for Fun & Profit
Every business can benefit from having another revenue stream and for many bars or gaming establishments, shuffleboard tables can be the ideal way to do it. If you have a business that has the space , and customers that can spend additional time in your establishment either waiting or enjoying their time, coin operated amusements may add to their experience, while giving you more revenue.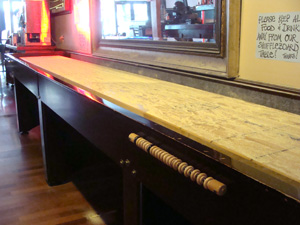 Restaurants are one such location for one of these family friendly games. Because of their ease of mastery and simple rules shuffleboard is a great way for your customers to pass the time while you can generate some additional dollars. Furthermore, any activity that you can add to your business not only keeps the impatient customer busy but can also provide a diversion that would be welcome for your other customers, and create a fun filled atmosphere.
If you have youngsters regularly visiting your business they may become rambunctious and cause unwelcome distractions to other customers. Anytime you can divert the attention of people at your location you are adding to the overall experience and creating goodwill. The game of shuffleboard really lends itself to a level of activity that does not create commotion and does not require a high level of physical activity, so anyone can partake in playing it, but not offend other paying customers.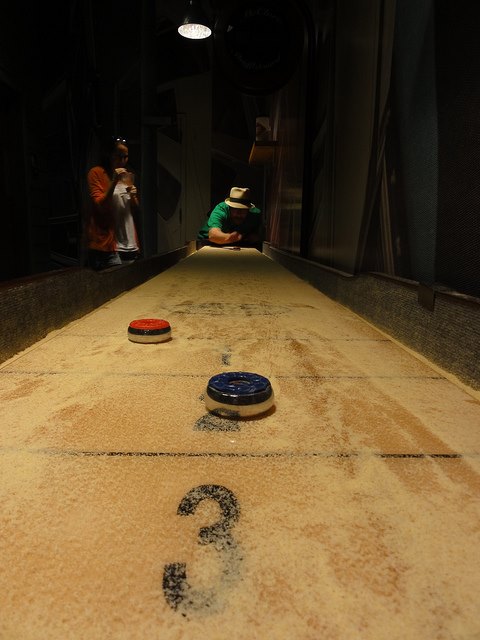 Coin operated tables base their amount of play on the score that is recorded by the players. The shuffleboard tables take up very little space and because of their configuration you can place them against a long exterior wall that uses very little square footage in order to play, compared to pool tables, for example.
In some cases this space may be completely unused and underutilized and require no compromising of the floor space that you are currently using.
Even if you have a carryout business you may be able to place a shuffleboard table in your location generating revenue, and at the same time keeping your customers occupied while they wait. Having them in your store for the purpose of a quick game could even allow you to get to know your customers, building better, stronger relationships.
Restaurants and bars are not the only places that you could benefit from a coin operated shuffleboard table. Studies show that any location where you are doing business can benefit from having your customer remain in your location for longer periods of time. The longer the customer stays the more money they spend. This is only true if they are enjoying their experience, and this is why the mega retailers have coin operated machines in their entrances and why other businesses sell food and beverages.
Give your customer more reasons to stay and conversely fewer reasons to leave.