What is Shuffleboard Wax?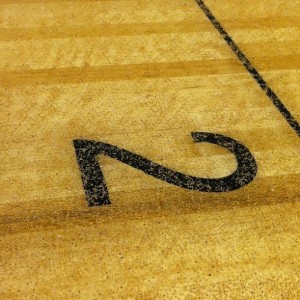 Shuffleboard wax has one of the most unusual names in tabletop sports, all the better to match its interesting purpose. The reason the name is unusual is because it is misleading. You might at first naturally think something known as shuffleboard wax would be used for waxing the table, but you'd be wrong. It's actually used to control how the surfaces of shuffleboard tables react to the pucks being slid across them, and it's more like powder than it is like liquid.
So what is shuffleboard wax? This item, so necessary for effective shuffleboard play, is typically made from dried silicone beads: perfectly rounded pint-sized silicone pellets. You will also find shuffleboard wax that is made from a combination of silicone and cornstarch. (Shuffleboard wax in general often resembles cornstarch or baby powder.) This powder has many other names in the shuffleboard industry as well, some in part due to its appearance: shuffleboard salt, sand, sawdust, dust, and even shuffleboard cheese.
The main purpose of shuffleboard wax is to decrease friction on the table. Spreading and sprinkling this powder on shuffleboard tables allows the pucks to slide down the table in the blink of an eye with only the slightest of pushes. The tiny beads of silicone are a non-liquid lubricant and act like like miniature ball bearings. In scientific terms, the shuffleboard wax lowers the coefficient of friction on surfaces, so that the objects sliding across don't as freely stick to it.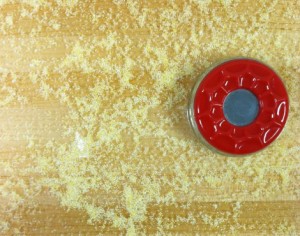 Shuffleboard is all about how the pucks interact with the board in order to enable the players to get their pucks past certain point lines, as well as land some elusive hangers. A crucial component of gameplay, then, is speed, and shuffleboard wax is all about exerting some control or being able to alter the speed potential of your shuffleboard surface. General cleaning and polishing the surface does reduce some of the friction between the puck and the board, but sometimes that's just not enough. When you need more speed and less friction, you can call on shuffleboard wax.
Shuffleboard wax does come in different varieties, which offer different levels of speed. If you have too much of a wax that is too fast, you could send those shuffleboard pucks flying left and right off tables, and no one wants that. Ratings are not comprehensive across brands of shuffleboard wax, although the level of speed is typically indicated in the name of the products usually point to the level of speed. Adroit Speed Wax, which is what we carry at McClure Tables, comes in two different varieties with four levels of speed, with 1 being the fastest and 4 being the slowest.
Whether you are a casual player or shuffleboard aficionado, your shuffleboard experience is just not complete without shuffleboard wax. Whether you call it shuffleboard sand, powder, salt, cheese, or dust, know that all these terms refer to the same little beads of silicone that get that friction to its lowest possible amount on shuffleboard tables. Not only that, but the powder also helps to protect your table's finish, extending its life in the process as it speeds up your shuffleboard game. While other attempts throughout history have been made to reduce tabletop surface friction, shuffleboard wax is the most successful and effective yet. Keep your table in tiptop shape by always having a canister of shuffleboard wax on hand!