Basements make the perfect game rooms for a number of reasons, chief among them being the fact that no matter how rowdy your game of shuffleboard gets, you are less likely to disturb the other residents of the house. However, one of the biggest complaints many people tend to have with turning the basement into an entertainment space is its propensity to feel cavernous and dark, given the fact that natural light is hard to come by in a subterranean environment. Instead of doing your best to liven up the area, why not embrace the mood and intimacy of a darker space in making a game room that truly exemplifies the "man cave?"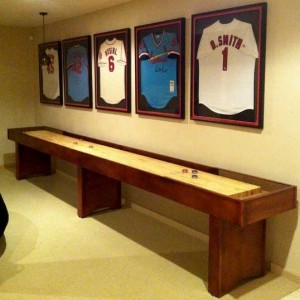 Think "Bruce Wayne" when you go about setting up your basement game-room. You don't have to make the space dark and scary, but give it a level of class and sophistication that still exudes masculinity overall. This way, you can embrace your inner "gentlemen" when you challenge the boys to a rousing game of shuffleboard – or better yet, impress a date with the class and tastefulness of this space.
Consider using dark browns in the accenting of the room instead of straight black all around so the place doesn't take on a gothic feel. Leather arm chairs, for example, and hardwood accents are perfect for this kind of space. Even consider implementing faux-leather paneling on a wall, or around the mini-bar you have set up in your room, to give it a modern, sleek look.
As far as shuffleboard tables go, one of the sleekest models made by McClure Tables is the Veneto model, which features attractive "V" shaped pedestal footing and an array of dark, hardwood designs. You can even have the table stained black to offset the dark browns of the rest of the room.