Buying A Shuffleboard Table For Dummies
When it comes to buying a shuffleboard table, it's important to research what type of product you should purchase. Unworthy shuffleboards will leave you craving gameplay that can only be matched by a few basic elements that not every shuffleboard features. These integral pieces make up the basis of our Buying a Shuffleboard Table For Dummies guide. Read, investigate and explore the differences between your average shuffleboard table and the ones that are crafted by hand at our Grand Rapids facility.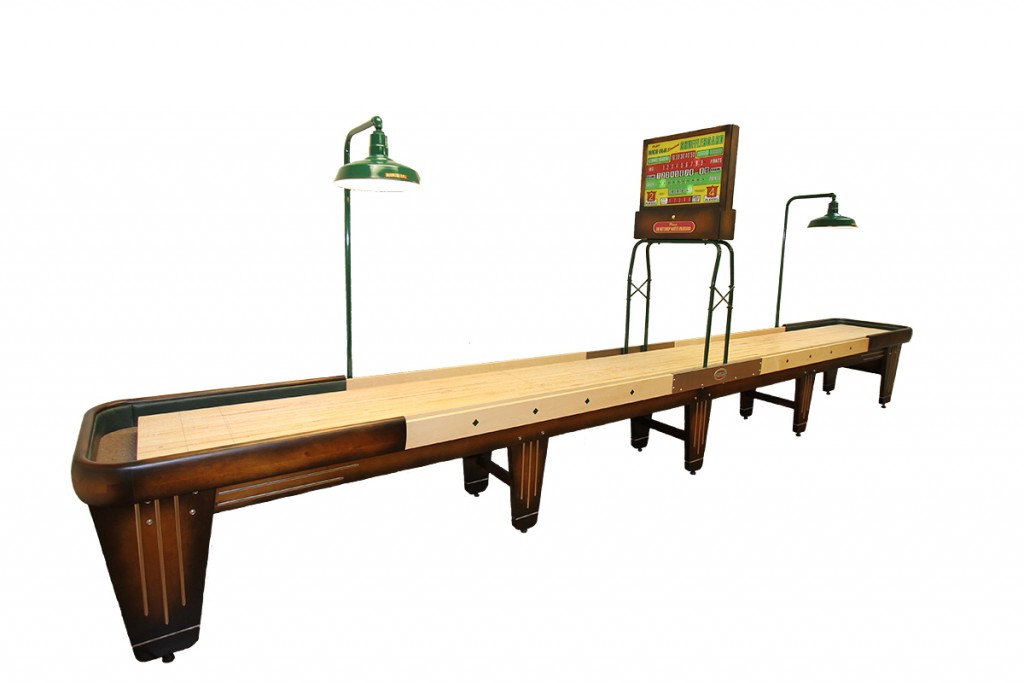 You can't just cram a shuffleboard table in any old room in your house. Find the perfect place for your new buy, be it man cave or living room, and start taking measurements. At McClure Tables, we handcraft many different sizes of shuffleboard tables to ensure that they can fit into nearly any room in your home. From 9-foot to 22-foot, this wide assortment of sizes and outer cases will give you plenty of options when it comes to placing your new table.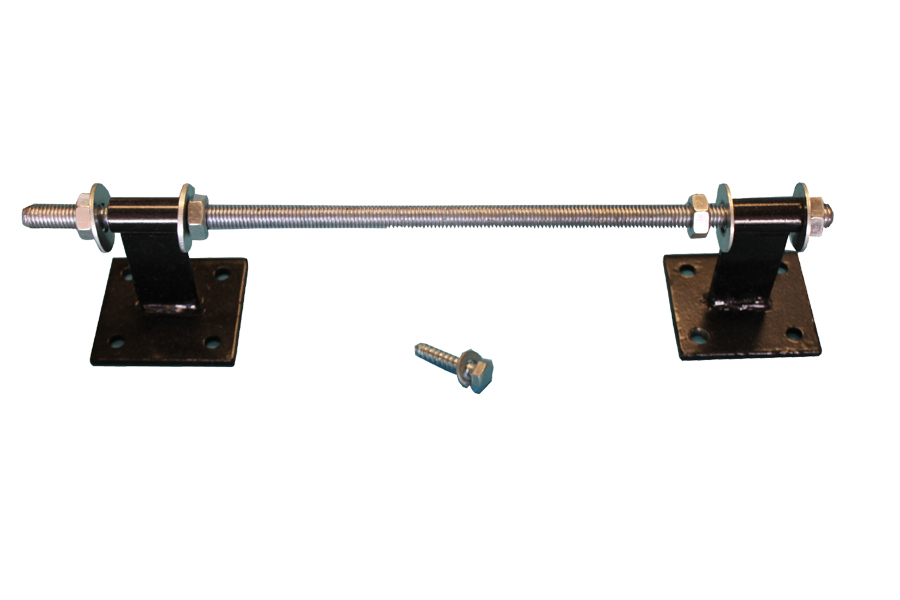 The Board Play Surface: Width Effect During Game Play
When considering buying a shuffleboard table, avoid purchasing one that has a board surface width less than 18 inches wide as this is not a sufficient width for full game play enjoyment even if you plan on using 2 1/4″ pucks (smaller than standard). A shuffleboard table is a long term investment so you want to ensure that gameplay is going to be satisfactory. Too small of a playing surface is comparable to a traffic jam on a highway… too many cars and not enough room to fit them. Shuffleboard is a game of strategy and having sufficient space to maneuver the pucks around your opponents is a key component to enjoying a fun and competitive game of shuffleboard. The width of a shuffleboard is where consumers generally cut costs by purchasing a 20″ wide and 3″ thick board as most of our competitors offer inferior narrow playing surfaces for the lower priced entry level models.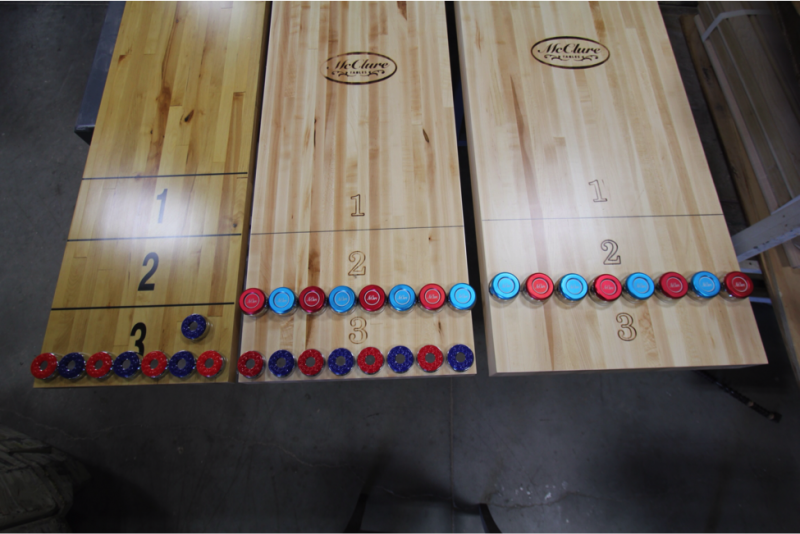 Shuffleboard Playing Field Thickness: Polymer vs. Traditional Finishes
When considering the thickness of the play field, keep in mind if it is being advertised as 3" thick with a lifetime polymer finish. This is misleading and slightly deceptive. When these statements are made, they are not talking about the entirety of the wooden board's thickness. They are including the polymer in the thickness of the board. We do use a polymer finish when we make boards with a logo, but this serves to make our boards thicker in general. When we say a board is 2" thick, that means it is 2" thick hard maple wood. A finished board at 3" is 3" thick hard maple wood. Look for a manufacturer who actually makes butcher block tops, as most do not. At McClure Tables, we've even been asked to quote raw butcher block boards for other manufacturers who offer the polymer finish. These boards will be 2 5/8" to 2 ¾" thick in wood, but will be advertised as 3" with the added finish. For more information about board thickness and width see this guide here.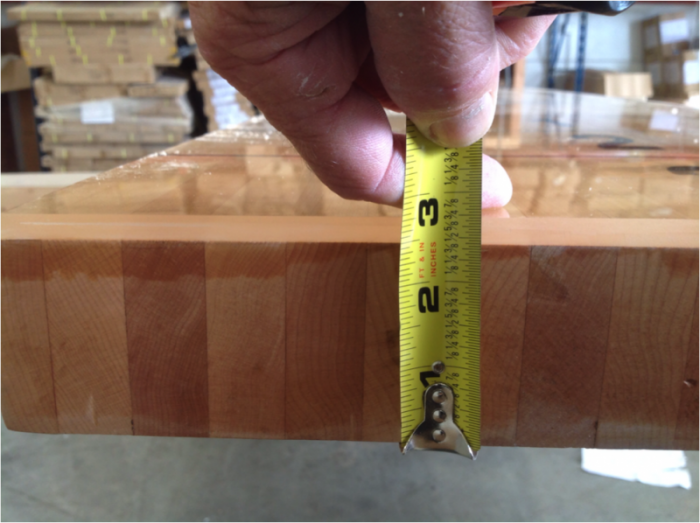 The Climatic Adjusters
When it comes to buying a shuffleboard table, it's kind of like buying a car. You wouldn't ever buy a car without looking under the hood first, right? Start by checking out the bottom of the prospective shuffleboard table or looking at the specs on the web site. What you should notice is several climatic adjusters, metal bars that run the width of the table and are used to keep the table from warping. All shuffleboards have a concave effect to the board, but without these adjusters the board can become uneven or damaged.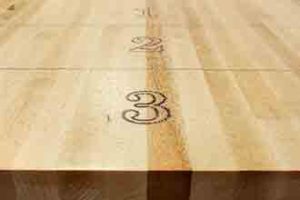 The Finish
Ever play on an older shuffleboard? Divots and cracks will send your pucks off the board or stop them dead in their tracks in no time. Thanks to advancements in board finishes, this is no longer the case. At McClure, we now offer a lifetime warranty with our traditional Piano finish, which allows shuffleboard pucks to slide much easier and make your shots more accurate. These tables are still made of the same maple material that has been a time-honored tradition, but with upgraded facelift that is perfect for gameplay. Plus as an added feature you are not playing on the plastic epoxy top but the actual butcher block surface. We are so confident on our finish we are the only shuffleboard manufacture who offers a 5 year warranty on our playboard finish used in commercial applications. See our warranty here and compare with other so called Lifetime warranties that are void in commercial locations.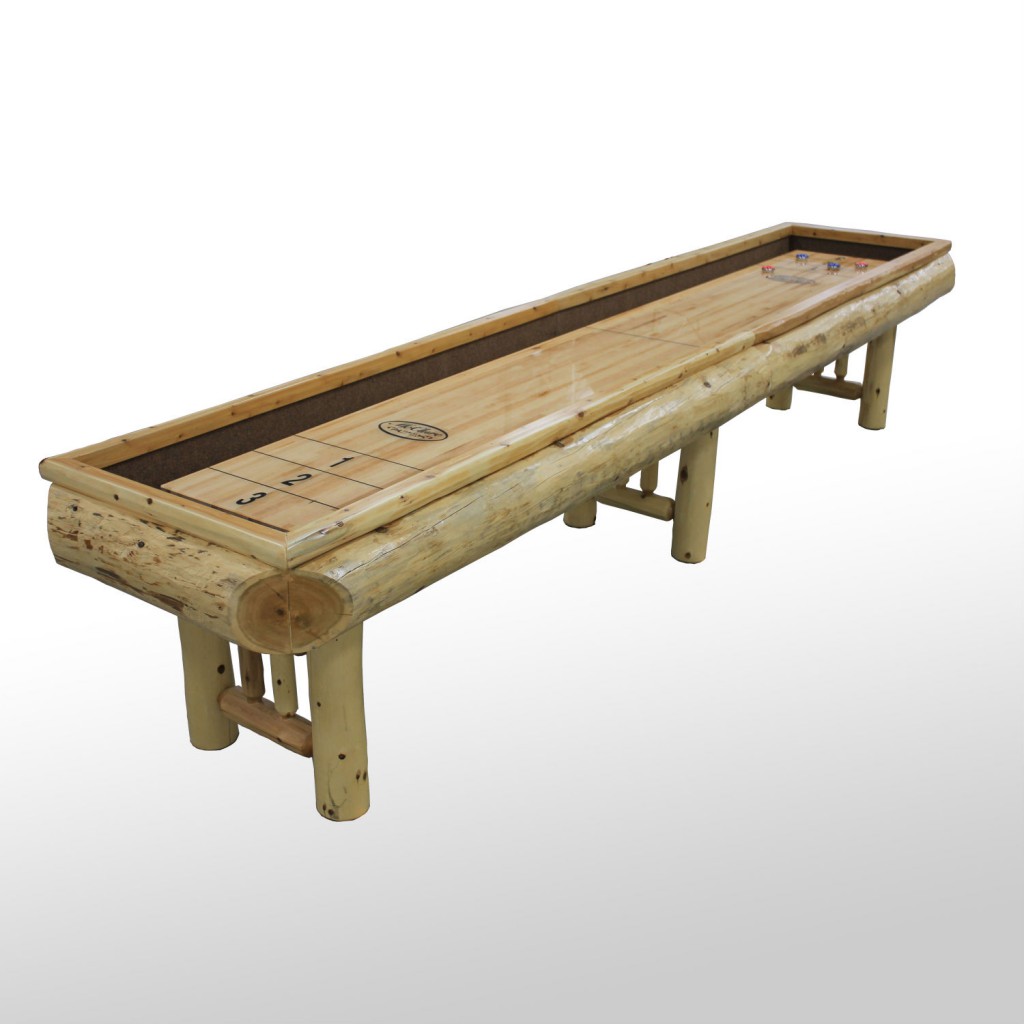 The Cabinet
While the outer cabinet doesn't serve any gameplay purpose, it's important when buying a shuffleboard to consider the aesthetic and look. Made from maple, walnut, pine and a plethora of finishes, the cabinet can be what ties your shuffleboard table together with the rest of your room. Looking for a rustic tinged shuffleboard? Try our Montana shuffleboard table. What about antique Art Deco? Then you'll want to take a look at the Rock-Ola shuffleboard table.
Finding and buying a shuffleboard table can feel like the ultimate reward. Remember the lessons you've learned, be sure to check out all of the tables specs and ensure that this is the table for your home. Quality isn't pressed out by machines, it's made by laborers who handcraft each and every aspect of your shuffleboard table. Trust us, you can feel the difference.