Consider a Competitor or Tournament Shuffleboard for Your Kids' Rec Room
Many homeowners are enraptured with the allure of a beautiful table shuffleboard because it has the ability to function not only as a beautiful piece of furniture but also as a way to bring families together. Where you set up your shuffleboard table, however, is just as important as picking one out the one that best fits your personal tastes.
While you may opt to choose a beautifully stained Veneto or Huntington shuffleboard table in your family's den, living room or elegant parlor, you're less likely to place such a beautiful piece in your garage or children's rec room. That isn't to say that you don't want a quality or classic-looking shuffleboard table for your kids to enjoy, but instead of fretting about aesthetics, you can purchase a perfectly functional board that will take a beating without forcing you to pay too much out of pocket.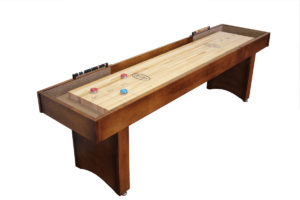 Our Competitor II shuffleboard tables start at 9-feet long and offer a basic look and premium value at half the price of many of our more elaborate tables. These pieces are made with the same precision and care of our top-shelf designs but are better for spaces where looks aren't an issue. For example, if you want to turn your garage into a game room during the summer so that you can open up the overhead door and enjoy the fresh air once the weather improves, this design is the perfect choice for such a setting.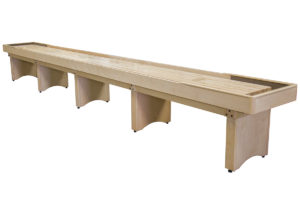 At McClure Tables, we also sell the slightly larger, more refined Tournament shuffleboard table which comes in a wider array of lengths and finishes for customers to choose from while still being one of the more affordable options. You don't have to spend too much to enjoy a game of shuffleboard, and these cheaper models are even great additions to a home that already features a McClure product and want another, smaller table in a different area of the house.