Is Your Shuffleboard Table's Playing Surface Really 3" Thick?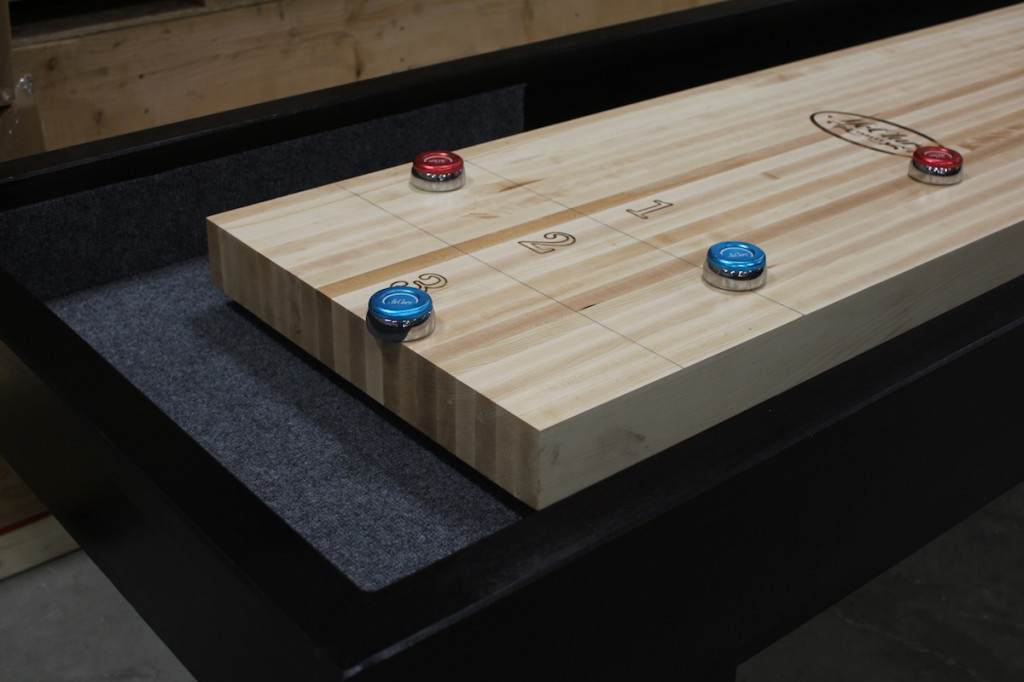 While the thickness of a shuffleboard table's playing surface may not make much of a difference for gameplay at first, thickness can play a huge role in the life, longevity, and gameplay of your shuffleboard table.
Though many competing shuffleboard brands state that their playfields are 3" thick, many surfaces often consist of .25" or .5", or up to ten coats, of poured epoxy polymer. While competing brands artificially boost their table's thickness with thick coats of poured epoxy polymer, standard McClure shuffleboard tables offer a full 3" thick hardwood playing surface with a thin protective finish to last through decades of riveting gameplay.
The Importance of Playfield Thickness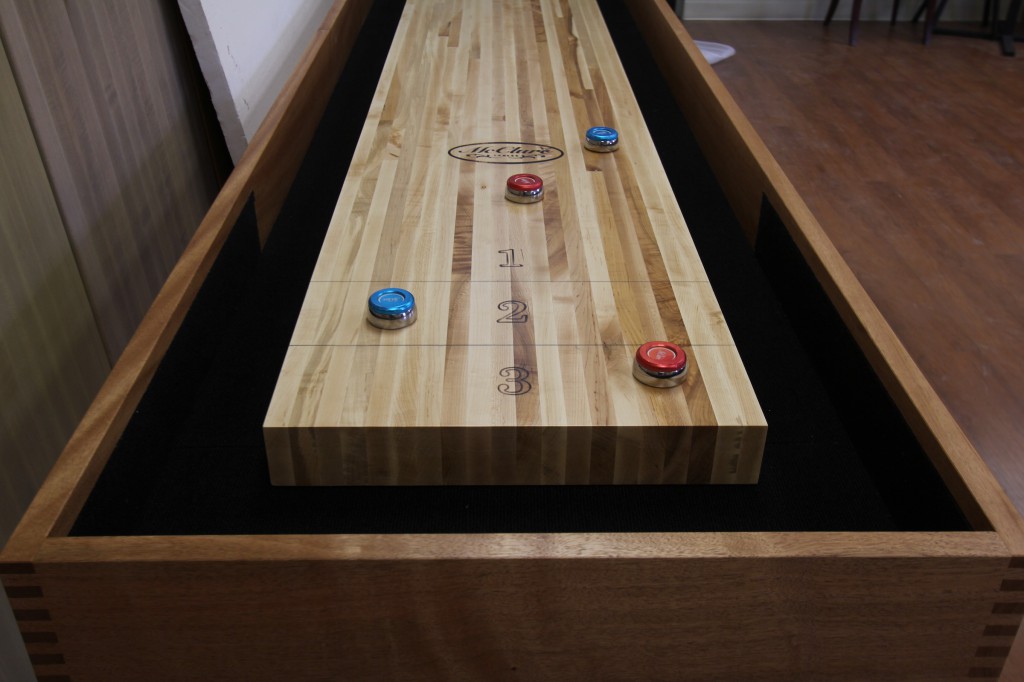 Imagine that you've had your shuffleboard table for a few years, and the playing surface is starting to show some visible wear and tear. You're going to have to sand your shuffleboard table down to re-finish the surface, and with half a dozen coats of polyurethane or polymer on top, you'll sand away almost half an inch before you even get to the wood.
If you expect your shuffleboard table to last upward of 10 years, the thickness of the playing surface will undoubtedly come into play when it's time to sand and re-finish your shuffleboard table. Many competing brands offer a 1.5" or 2" thick playing surface, and with a portion of that thickness consisting of polymer or polyurethane, it may be difficult to ever touch up your table.
Unfortunately, if your table's playing surface is less than 2" thick, or if a good portion of the playing surface is coated with polymer, then you may not be able to sand and re-finish your table without fear of sanding the table down significantly. If you want to invest in a table that will last through generations of gameplay, the thickness of the playing surface is essential. Thickness can also affect gameplay, especially if you're shooting a side-wheeling shot from the side of the table.
Additionally, with a thick polymer coat on top of your playing field, the polymer finish will pull on the sides of your board to create a concave surface over time. This can greatly affect shooting accuracy and the slope of the table, making some portions of the board virtually impossible to land a puck on. To keep gameplay exciting and unpredictable, you need a shuffleboard table that won't flex into a concave position over time.
The McClure Guarantee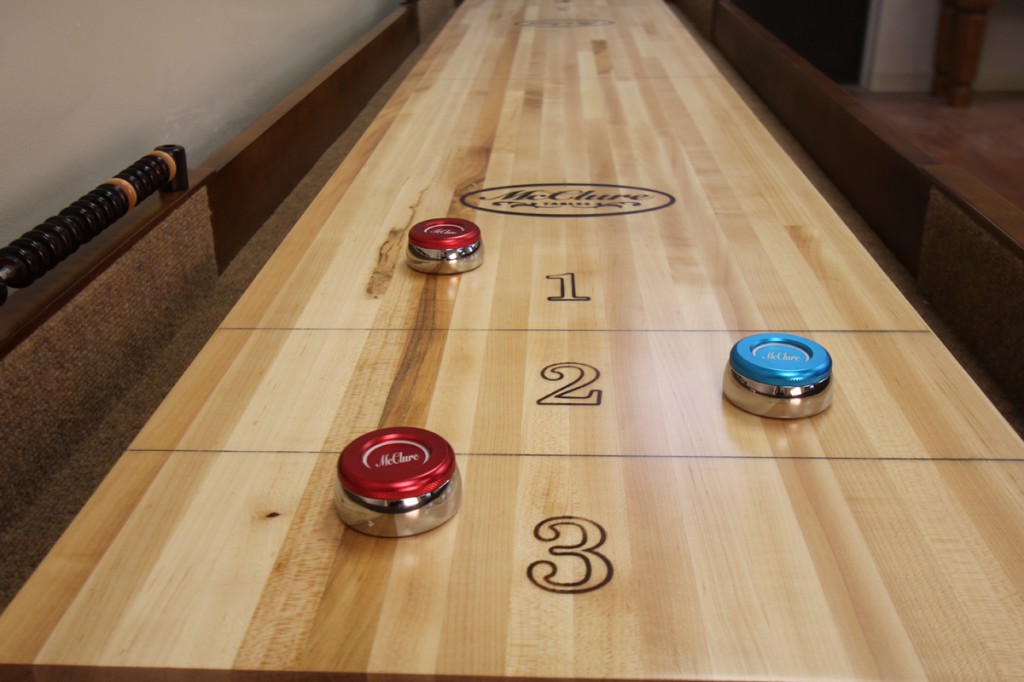 With the exception of McClure's Competitor II and Contempo Shuffleboard Tables which are sized down for shipping costs, every McClure shuffleboard table is made to professional standards with a 3.25" thick playing surface, with roughly 3″ of hardwood and a thin coat of finish to protect the table. Each surface is glued up in edge grain fashion, and is subsequently sealed with a specially formulated finish that is designed to stand up to years of intense gameplay.
With McClure's protective finish, you won't have to worry about your playing field flexing into a concave position either. McClure's playing fields are comprised almost entirely of hardwood, allowing owners to quickly adjust the table's climate adjusters to create a perfectly balanced table for exciting, spontaneous gameplay.
At McClure, we recognize that a shuffleboard table can be a significant investment, and want you, your family, and friends to be able to enjoy the table for decades to come. By providing premium-quality playing surfaces with equally durable cabinets and legs, McClure's shuffleboard tables are guaranteed to provide countless hours of excitement.
McClure's commitment to quality can be seen in every shuffleboard table made at the McClure wood shop, and each table is handcrafted from start to finish by McClure's team of master craftsmen. If you're looking for a shuffleboard table that's durable, beautiful, and guaranteed to stand up to decades of energetic gameplay, look no further than McClure's handcrafted shuffleboard tables.