Protect Your Shuffleboard Table over the Holidays with a Cover from McClure Tables
When you stop using your grill, you naturally put a cover on it. Once it's too cold to go out swimming, you do the same to your swimming pool to make sure it doesn't suffer from any unnecessary damage during the winter. You should take the same approach to protect your shuffleboard table when you are too busy to engage in a heated tournament in your home's game room.
Just because most shuffleboards are kept indoors, that doesn't mean there aren't elements within the home that may affect the long term quality of your table. In fact, given that tables are usually found in rooms where people tend to get rowdy, like a bar in your basement or your kids play room, there are many opportunities for your shuffleboard to get damaged.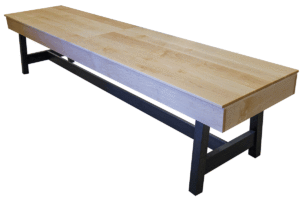 No matter what length your shuffleboard is, McClure Tables sells shuffleboard covers that will fit on it. Our covers come in a wide array of colors that will perfectly complement the design aesthetic of any space.
If you have a friend or a loved one that has a shuffleboard table and is known for using and abusing this piece of furniture, this is the perfect gift for them on Christmas morning.
The same is true if you decide to give a loved one a whole new shuffleboard as a present this holiday season. You shouldn't offer someone a fine piece of equipment without giving them tools to protect it, so make the small investment and throw a cover under the tree as well.
As you will witness first hand if you spend the holiday at a loved one's home that features a shuffleboard, the game can get pretty raucous and food or drinks that spill on the table may make the main alley uneven. Be sure to give this gift early, so that once gameplay is over and the family continues to revel around the table during the holiday, you can throw a cover on to protect it.