Custom Made Shuffleboard Tables Installed in Chicago Area
We were just in Chicago yesterday to deliver and install a custom made McClure Tournament II shuffleboard table in traditional mahogany finish. McClure tables does not just custom build a few models every shuffleboard table we make is custom crafted. This customer had some questions about the height or clearance under his shuffleboard table because of the area where he wanted to install the table had a couple obstructions in the basement. We had 26″ to work with under the table and 69″ in height to work with below the score unit. We did some measurements and a few emails back and forth and customized the shuffleboard table to fit his needs. See the Gallery below to see how we were able to accommodate this customers needs.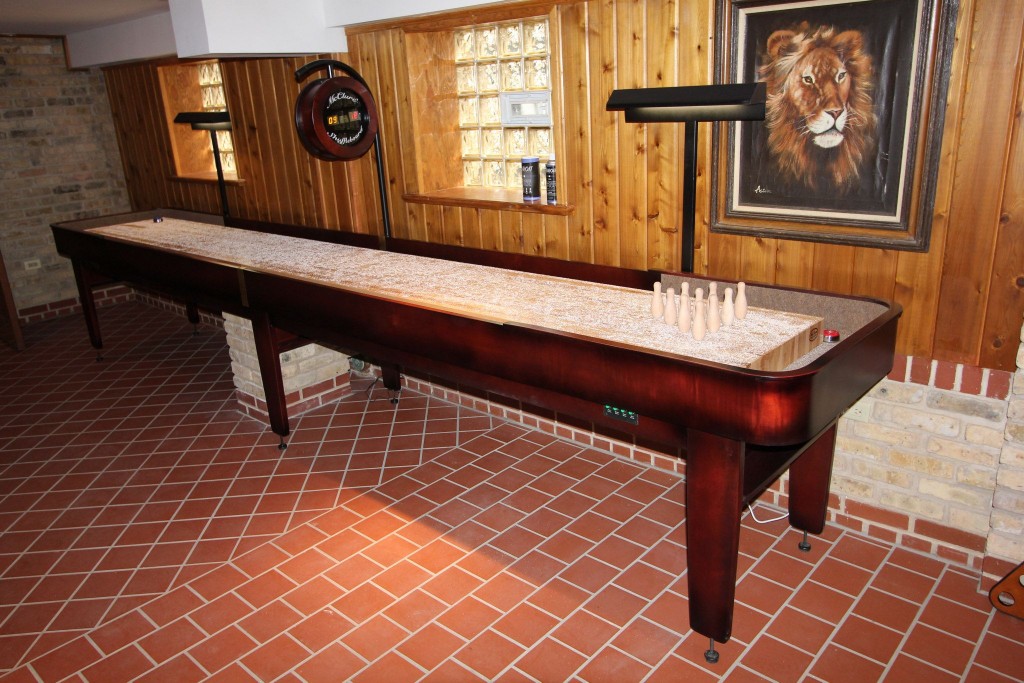 Enjoy a game of bowling on your shuffleboard table.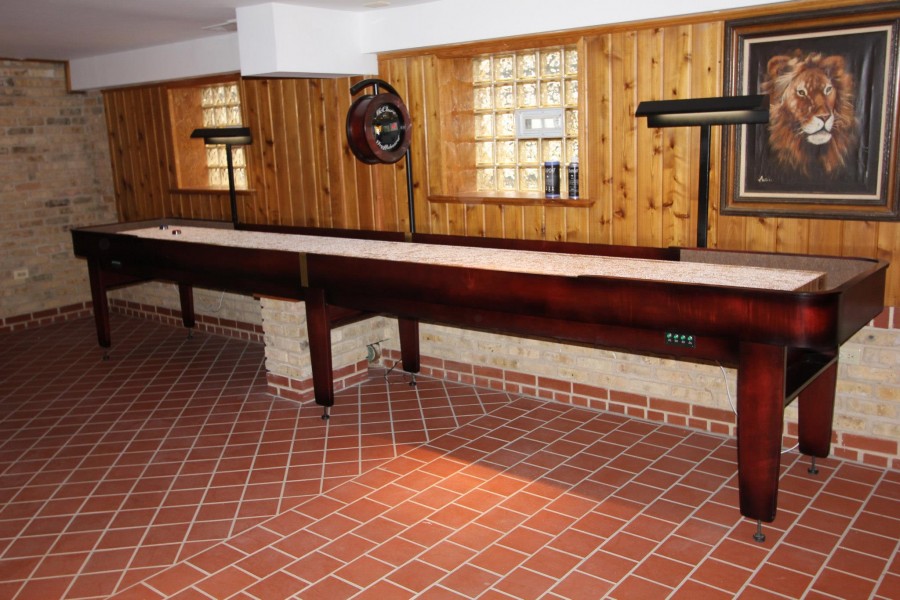 Tournament II 16 foot in Traditional Mahogany finish.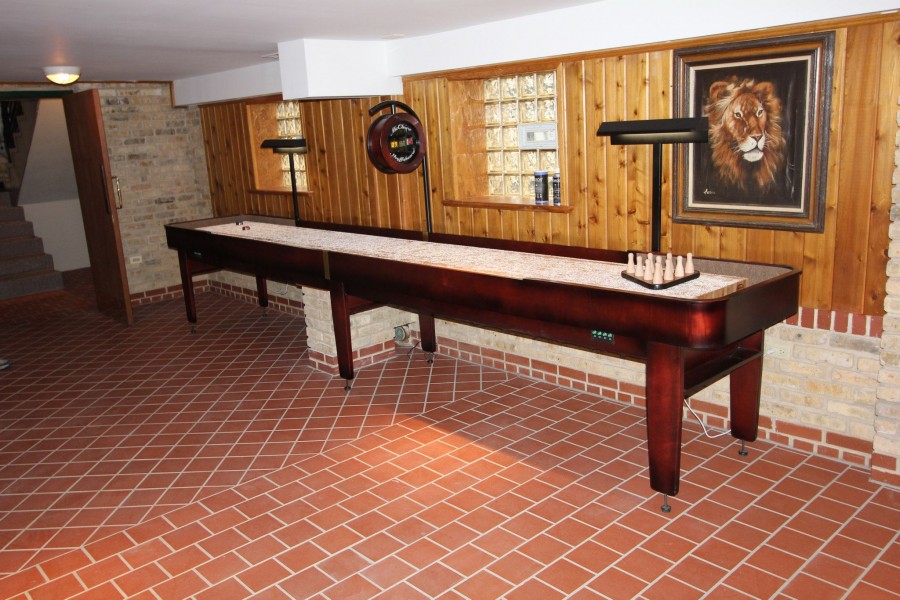 The bottom of the table is clearing the brink obstruction.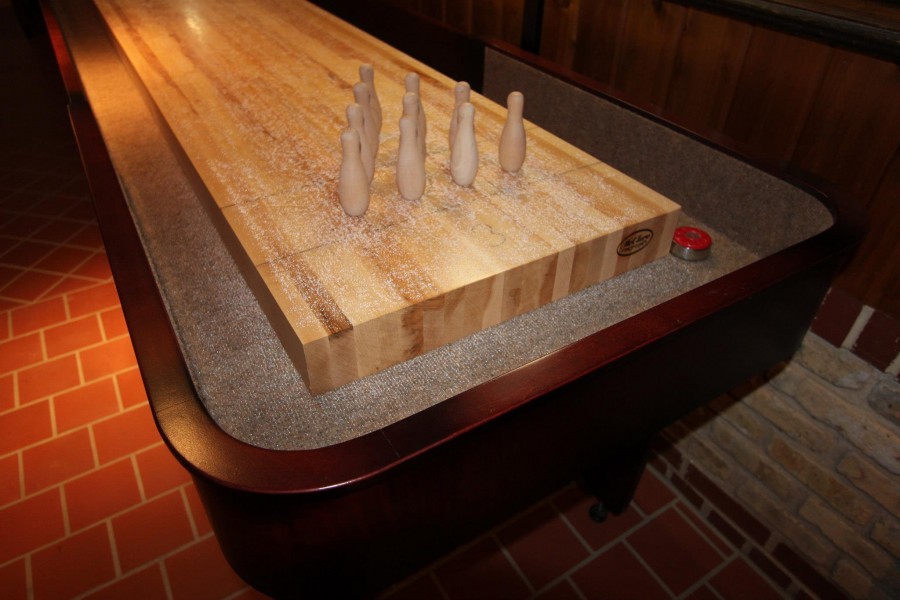 Bowling Game can be bought for any custom handcrafted shuffleboard table..
While in Chicago we also stopped by a couple satisfied customers to service their Shuffleboard Tables. On this table here the Veneto this customer came to Michigan and picked up his table but saw the hand marked shuffleboard tables in our shop. He liked the way we hand stamp and do the numbers by hand on the old Rock-Ola antique shuffleboard tables and restorations so we swapped out his silk screen board for one custom marked to  his design.
Veneto Custom Made Shuffleboard in Deer Creek Classic.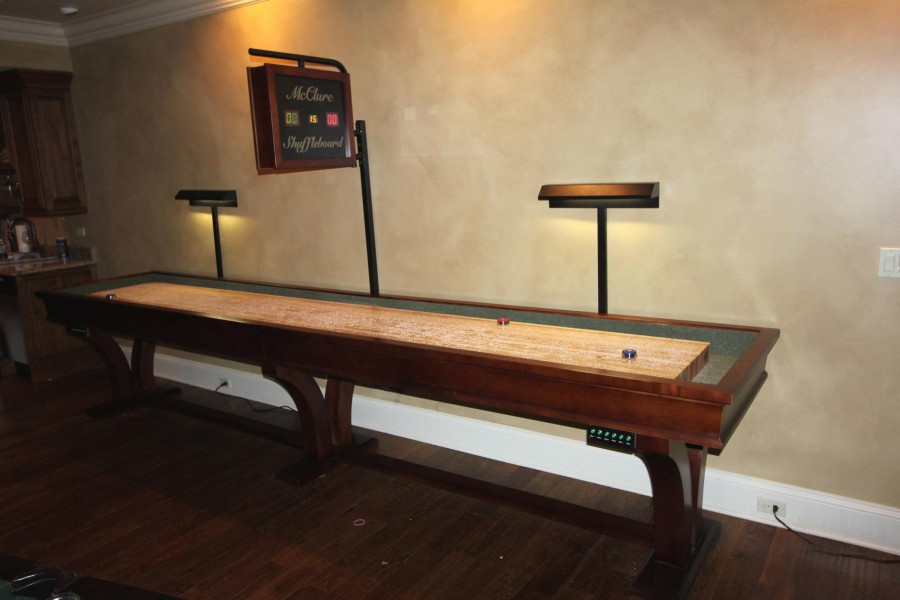 Veneto custom made shuffleboard table with large score unit and lamp kit.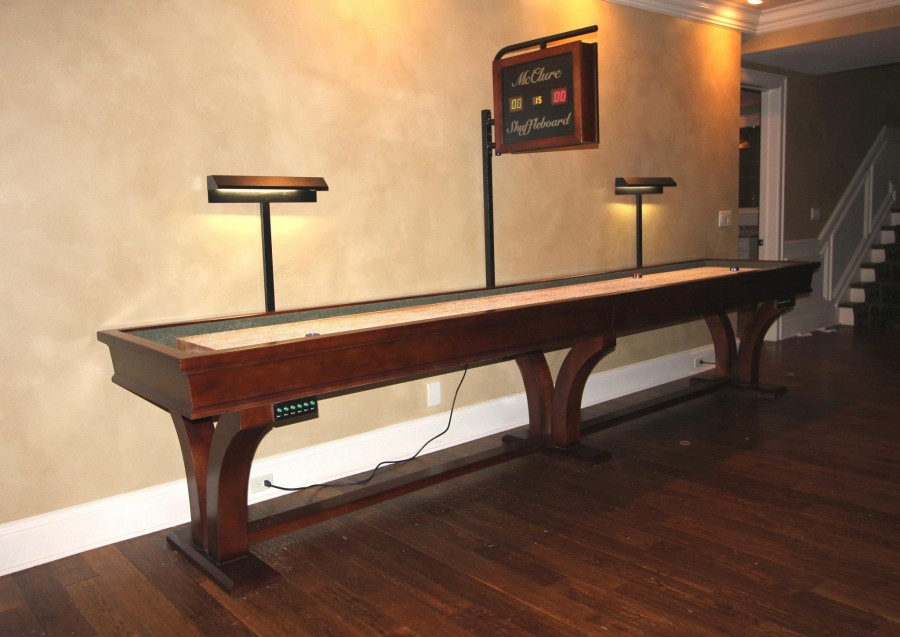 Veneto 14 foot custom made shuffleboard table.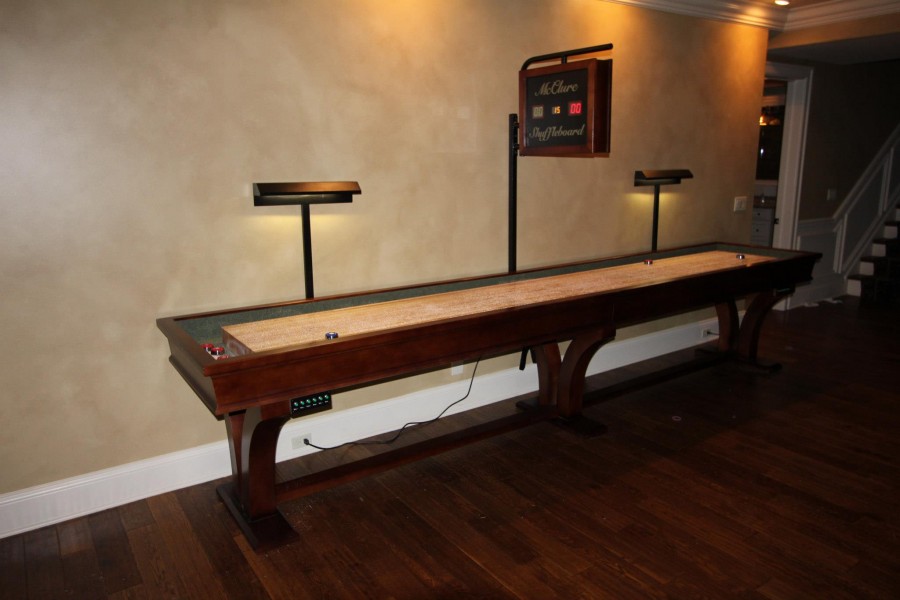 Our last stop was to adjust the board in a real nice game room with a hand crafted bar, big screen TV, poker table, antique Brunswick Arcadia pool table and a McClure custom made shuffleboard table. Every piece in this room from the shuffleboard table to the custom made bar was first class craftsmanship.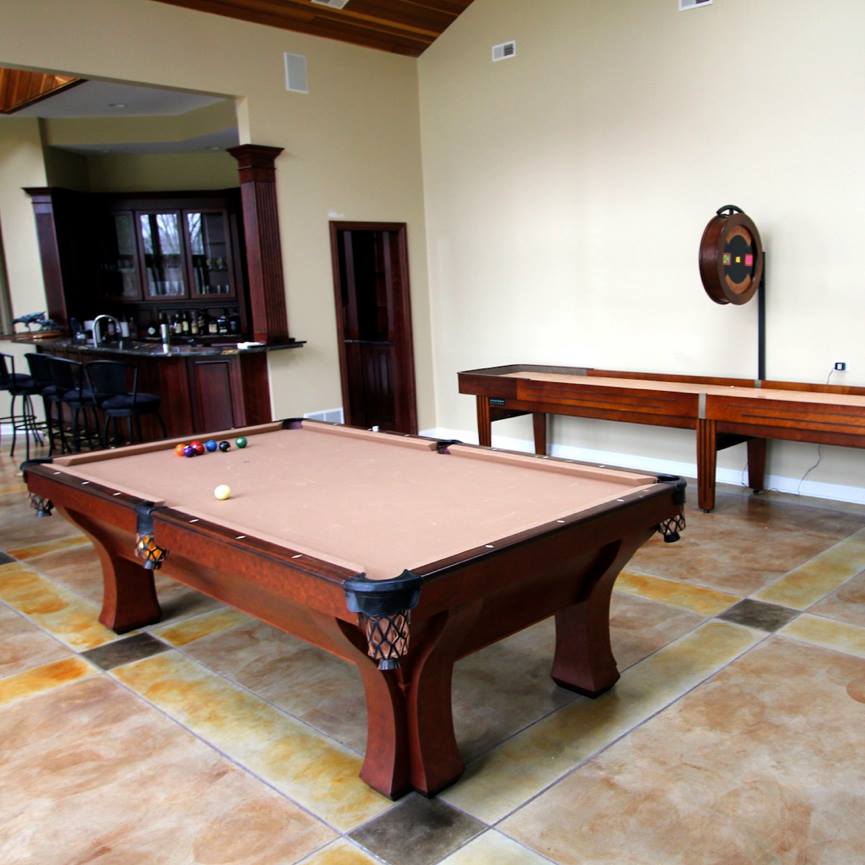 Nice antique Arcadia Pool Table went real well with custom made McClure Shuffleboard.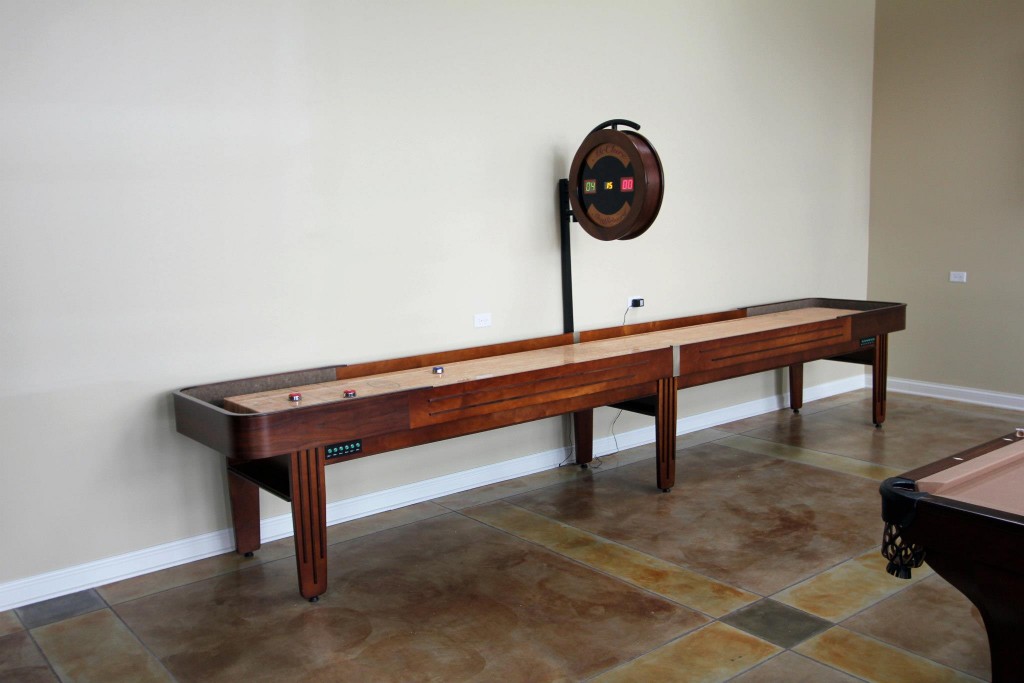 McClure Custom made Tournament II shuffleboard in Cognac finish.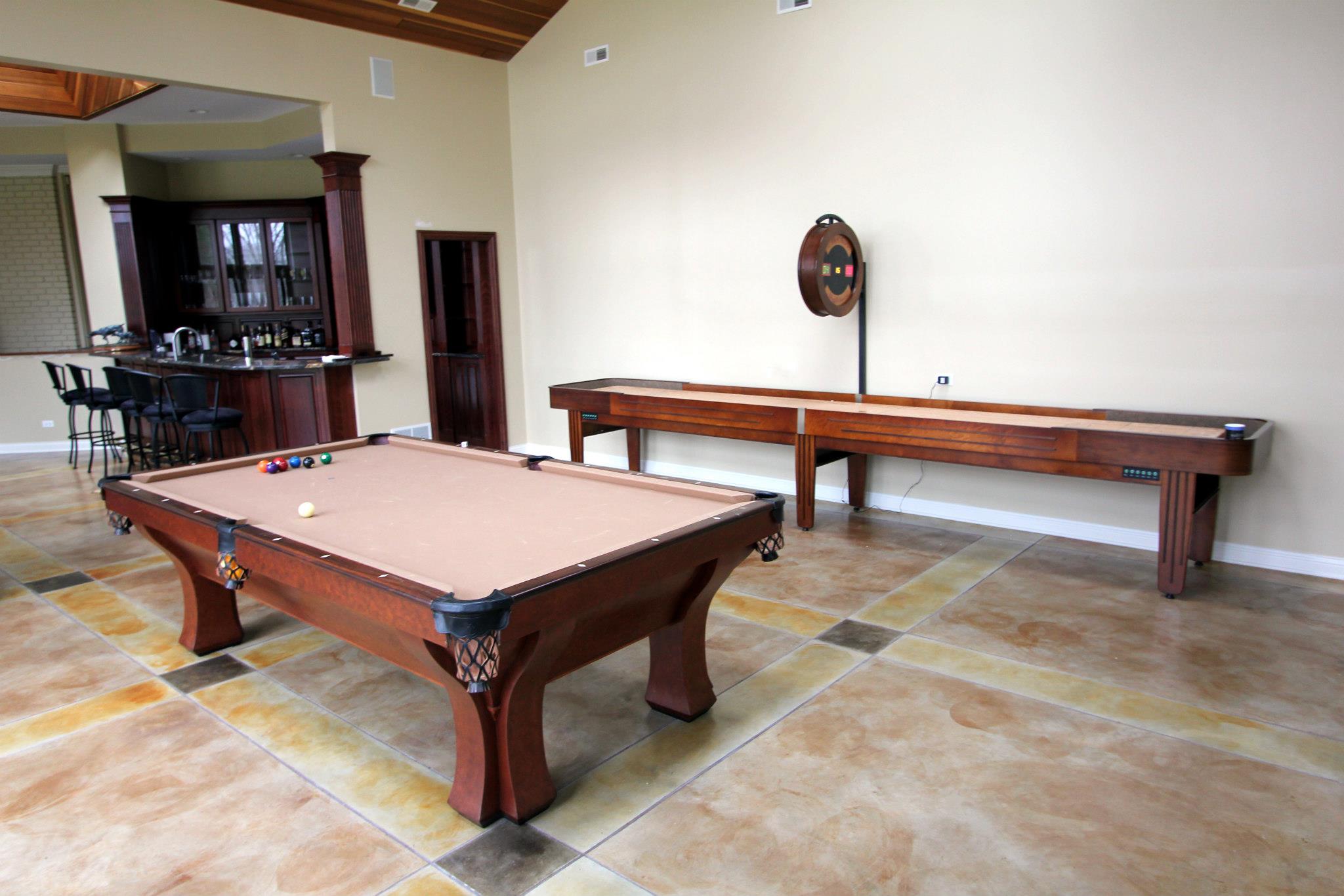 Game Room with Antique Brunswick Arcadia Pool Table and McClure Custom Made Shuffleboard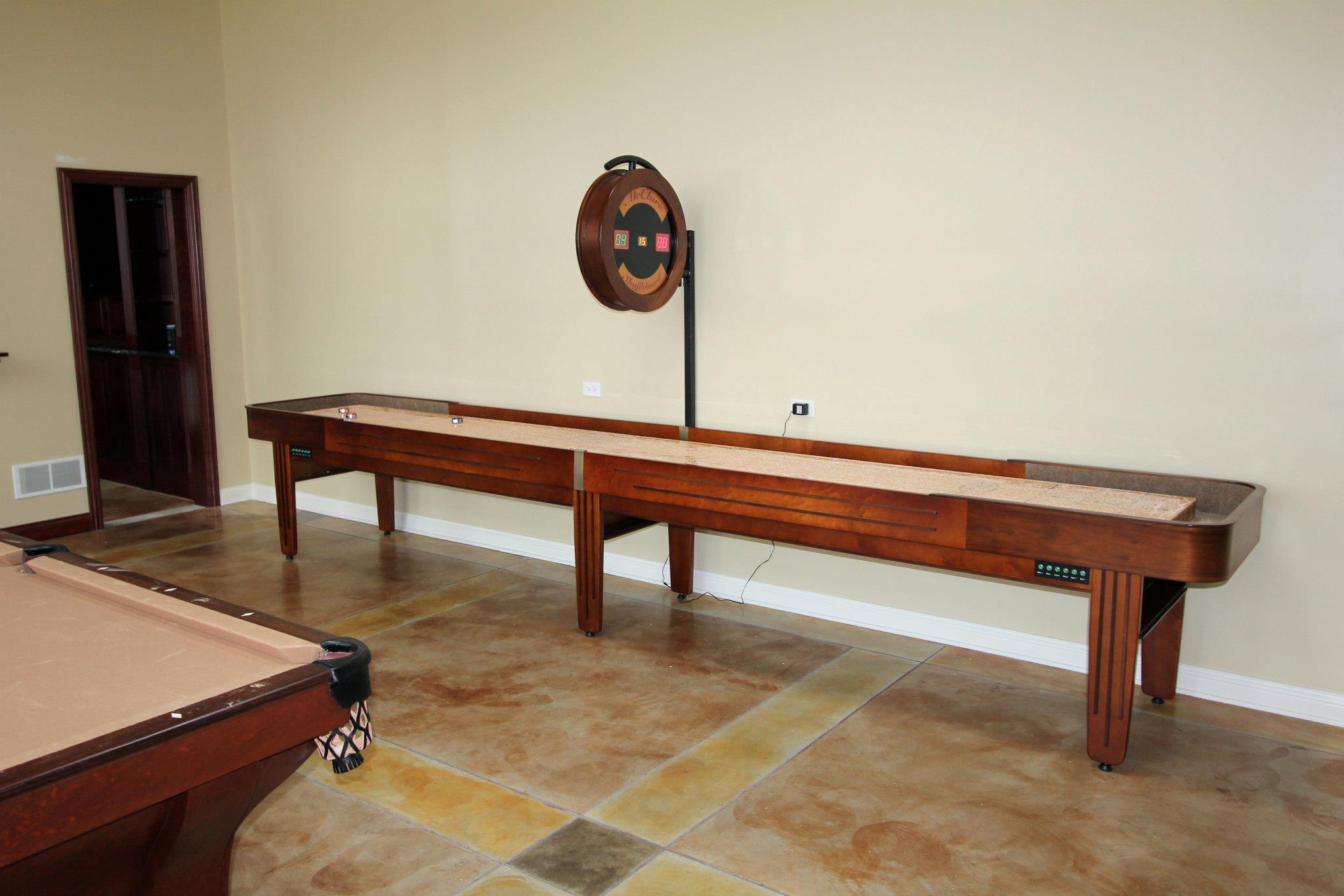 Tournament II Cognac Shuffleboard Table with electronic shuffleboard score unit.
No matter what your requirements at McClure Tables we can custom craft shuffleboard tables to fit any room or situation. We have even made custom furniture and pool tables so don't just think of us when it comes to custom made Shuffleboard Tables.